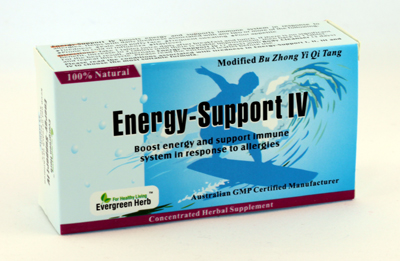 Functions: Supports immune system and boosts energy in response to allergies. Helps with daily tiredness associated with any of two or more following:
Tiredness
Easily sweating
Pale and puffy face
Poor appetite
Easily get cold/influenza
Hayfever
Dosage: Adult Only. Take 1-2 tablets twice daily after breakfast and lunch. Please read the enclosed leaflet before use.
For the best results, alternate Energy-Support IV with Body Cleanser
Please read the conditions associated with tiredness in the Energy-Support I, II, III and IV to choose the most suitable one for yourself.
Main active ingredients:
Astragalus membranaceus (Milkvetch root)
Codonopsis pilosula (Tangshen)
Atractylodes macrocephala (Largehead atractylodes)
Angelica polymorpha (Chinese angelica)
Cimicifuga heracleifolia (Largetrifoliolious bugbane)
Citrus reticulata (Dried tangerine peel)
Ziziphus jujuba (Chinese date)
Zingiber officinale (Ginger)
Poria cocos (India bread)
Hordeum Vulgare (Germinated barley)
Crataegus pinnatifida (Hawthorn fruit)
Amomum villosum (Villous amomum fruit)
Leave a reply →